Once you purchased an iPad, it is important to get a good tablet case for it. You may have already noticed how easy your iPad slips out of your hand.
If you are looking for a case that protects your tablet, is well made, durable, and gives you a great grip on your tablet every day and in every situation, you need to look for something different than the common tablet cases that are out there.
The revolutionary Tablet Case System will fit your need. It was specifically designed to provide you with a secure grip of your tablet for everyday use. We believe that our Tablet Case System will let you get the most out of your iPad.
Instead of worrying about how to handle your new iPad to prevent dropping it, with our secure grip you can enjoy movies on your tablet, look up directions in your car, read a book. Thanks to Roman Gadgets Tablet Case System, you no longer have to worry about leaving your tablet in the hands of children. Your iPad will be protected while your kids play games or watch movies.
 A revolutionary Tablet Case System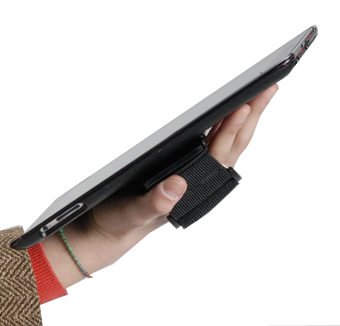 Here is how it works:
Our revolutionary Tablet Case System provides a secure grip of your iPad through the special handle on the back of the cover. The handle can be easily converted to let the tablet rotate 360°. The case material and the shape of the handle have been specifically designed to provide a secure hold of your tablet and limit the risk of dropping it.
The Tablet Case System provides full protection for your tablet and a comfortable grip wherever you are. This is the greatest advantage of the new Roman Gadget Tablet Case System: complete protection, comfort, and support, and you can stop worrying about damaging your iPad – no matter who is holding it!
Stay tuned to learn more about our revolutionary new case system!
Follow us on Facebook and Twitter or subscribe for more news and tips.